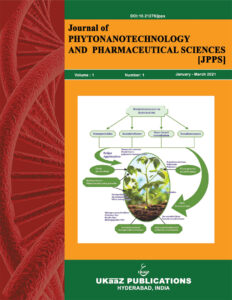 Journal of Phytonanotechnology and Pharmaceutical Sciences (JPPS) Provides a podium for researchers all over the world to publish their original research papers and review articles in all aspects of nanotechnology related to plants and pharmaceutical sciences. This online quarterly journal is a peer-reviewed and open access, aiming to communicate only high quality research findings among the scientist, researchers and scholars in the areas of Phytonanotechnology and Pharmaceutical Sciences.
Journal name: Journal of Phytonanotechnology anad Pharmaceutical Sciences (JPPS)
Abbreviation: J. Phytonanotech. Pharmaceut. Sci.
Status: Online
ISSN:
Frequency: Quarterly (March, June, September, December)
DOI Prefix: DOI:10.21276/jpps.
Language: English
Accessibility: Open Access
Copyright: Journal allows the author to hold the copyright and retain publishing rights without restrictions.
Plagiarism: There is a zero-tolerance policy towards plagiarism in this journal. Manuscripts are screened for plagiarism before, during and after publication, and it found they will be rejected at any stage of processing.